Foreign companies are finding it increasingly attractive to set up companies in Dubai. The reasons for their relocation include the facilities such as world-class infrastructure, reliable connectivity, a talented workforce, a cosmopolitan work environment, and several incentives to invest further.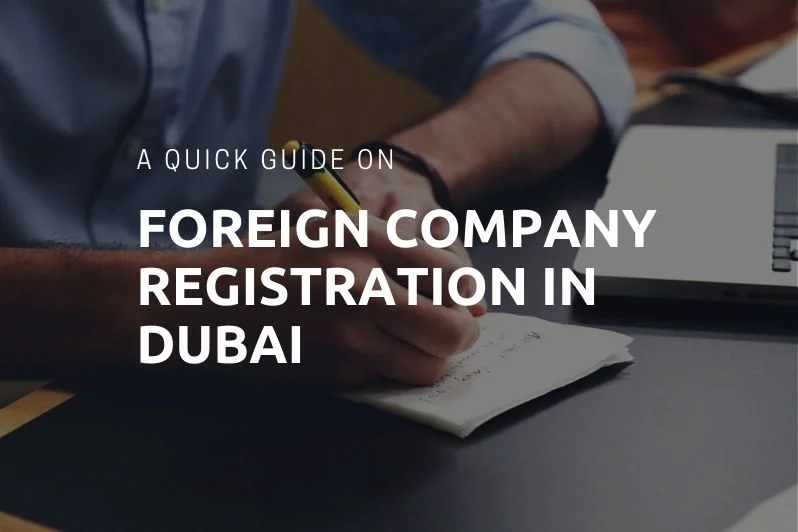 There are many legal considerations to address if your company would like to expand its international operations into Dubai or if you are a foreign investor looking to form a business in Dubai. Business setup consultants can help foreigners to establish a business in Dubai through company incorporation or registration services. The procedures for business setup are listed below.
Step-by-Step Guide Line to Foreign Company Registration in Dubai
Step 1: Decide the correct legal structure based on the activities that a business intends to undertake and its intended markets. The type of company one wishes to set up has an impact on the kind of company that it is allowed to run in Dubai.
Step 2: Appoint a national service agent, which must either be a UAE national or a company wholly owned by UAE nationals. This is the case if you plan on operating in the Dubai mainland.
Step 3: Present the required documents for registration and approval which may include but are not limited to
Certificate of incorporation (or equivalent), memorandum and articles of association, and a certificate of good standing (where one can be obtained) from the parent company's home jurisdiction in the case of a company branch.
A board resolution to authorize the opening of a Branch or RO, to appoint a general manager and to grant a power of attorney to the general manager; and to confirm that the company accepts responsibility for the liabilities of the office when established in Dubai.
Audited accounts of the parent company for the last 2 years;
A statement setting out the company's main operations and activities;
Certified passport copies for the General Manager;
2 x Certified proofs of address for the General Manager;
1 x CV for the General Manager;
1 x Professional / bank reference letter for the General Manager.
All the required by local authorities have to be notarized and attested depending on the company that is established.
Step 4: All the documents must be translated into Arabic by an official translator before being presented to the authorities in UAE. Even if the documents are in English, it is wise to have another set of copies translated into Arabic before submission. This will ensure that there is no confusion or setbacks when the documents are being verified and will give off the impression that the investor is serious about the intention to conduct business in Dubai.
Step 5: All the requested documents are to be submitted to the relevant authorities. Once they receive the documents, the entire verification process will begin and the application will be processed.
Licenses Available for Foreign Companies in Dubai
Types of licenses that are available to foreign investors who wish to conduct business in UAE are:
The general trading license, which allows for various types of trading activities;
The industrial license allows for completing various activities in the industrial field;
The commercial license, which enables the branch to sell various goods and services;
Other licenses are issued by free zone authorities based on their specific areas of interest.
Advantages of a Foreign Company in Dubai
Foreign companies can retain 100% ownership in the UAE
The company may legally conduct the approved activity in its license anywhere in the UAE
No restrictions on the location where the company can rent/buy office premises
The government has permanently waived any paid-up capital requirements.
The entire procedure described is to incorporate a company in Dubai. By doing so, foreign investors can operate in the local markets with little to no interference. The registration process is long and it has multiple steps with quite a number of requirements.
You may be interested in: How to Start a Company in UAE Without an Office
If you are looking to set up a foreign company in Dubai or an extension to a parent company, it is an excellent decision that will help your business to grow at a faster pace and at an international level. We are one of the leading Business setup firms in Dubai that understand company formation and have helped multiple clients to establish their businesses in the emirate. For more information regarding business setup in UAE or Dubai, contact us for further consultation.