The fact that the Dubai Free Zones, particularly International Free Zone Authority (IFZA), have become the preferred locations for business setup. The emerging local economies in UAE have ensured a huge number of businesses move to the country to take full advantage of the availability of skilled labor, large domestic markets, and booming, state-of-the-art infrastructure.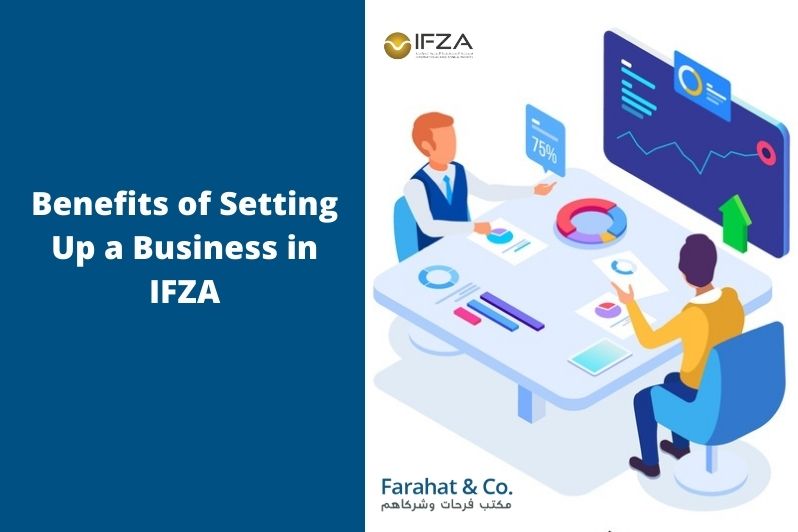 Standing firm on pillars such as zero corporate tax, reliability, rule of law, high productivity, skilled manpower, enforcement of rights related to brands and intellectual property among others, Dubai and IFZA provide a conducive environment that is perfect for businesses that are looking to develop roots in the Middle East.  
In this article, we'll provide you with some of the greatest reasons why you should consider a business setup in IFZA and choose the free zone authority for your company's headquarters.  
Strategic location 
IFZA is becoming one of the top free zones in the country due partly to its location and close proximity to other emerging markets in the UAE. Being registered in IFZA as a business allows you to enjoy as well as easy access to the international market. A lot of businesses are developing their operations and gaining their initial clients quickly as Dubai, in itself, is a renowned global commercial hub. Players of all sizes, industries, and domains are present in the area. It's not only an incredible advantage for large, established corporations but for freelancers and small to medium-size enterprises as well.  
Strong legal system 
IFZA, being in the jurisdiction of Dubai, has some of the most stable environments in relation to politics across all of the Middle East. It offers investors and entrepreneurs a strong, deep sense of comfort and security. The rich amount of variety for entertainment, dining, healthcare providers, and education systems in IFZA and Dubai provide a great location for raising a family. When it comes to cross border disputes, a business in IFZA will also be able to rely on the reputation of UAE as the world-class facility for arbitration.  
In addition, the UAE has been given the title of the best place for IP protection. Reports recognize the UAE as a country where there are sound policy-making procedures and political infrastructure. This leads to it being a transparent country that enjoys a very stable environment for conducting business.
Skilled local talent 
Based on research, IFZA Dubai enjoys a high rank for the labor force, particularly in workers' general overall attitude and productivity. The labor force in IFZA, Dubai is highly motivated by effective company policies, attractive living conductions, and a conducive working environment.  
The availability of skilled labor pools within the region can also be attributed to the UAE's sound educational policies and programs, attractive immigration policies, and ongoing training for employees.  
In addition, UAE enjoys a better working environment and a high rate of productivity from camaraderie amongst residents and open communication channels between employers and employees.
More
Benefits of business setup in IFZA
Company formation takes only a few days to complete

Easiest, quickest, and most affordable business setup 

Exemption from personal and corporate tax

The physical presence of the shareholders isn't necessary 

100% foreign ownership 

Wide range of economic activities available 

Quick and easy opening of corporate bank accounts 

No deposit is required for employee visa

Allows for excellent living conditions and quality of life 

Well-developed financial system and capital markets 

A robust economy
Company formation specialists in IFZA 
At FAR Consulting Middle East, we'll help you set up your business so you can start turning your dreams and ideas into reliability. Whether you're looking for assistance or answers related to Company formation in IFZA, call us so you can discuss with our team today!
What are the kinds of trade licenses available for business setup in IFZA?
The following licenses can be applied for to set up a business in IFZA: 
General trading license – with this license, you can trade within the region out of an extensive list of products and services; 
Holding license – for a holding license, you can set up a business for holding standalone assets or shares of other businesses; 
Industrial license – you will be allowed in importing raw materials, carrying out production or reproduction, manufacturing, exporting, and/or packaging; 
Trading license – you will be allowed in trading items that are specified on your trade license; 
Service license – licensee will be allowed in the distribution, transformation, reproduction, and production of certain services; 
consultancy license – the license is for t3he provision of professional consultancy services int her region
What type of legal framework does IFZA adopt for business setup?
IFZA and Dubai both have different sets of regulations for investors that wish to set up their businesses. Legal requirements and paperwork are minimal with fast-tracked procedures that make it extremely quick and easy to incorporate.