To start a business in Dubai, there is a need to acquire a business license. Two of the most common types of licenses issued for businesses in the emirate are professional and commercial licenses. In this article, We will explore the differences between these two.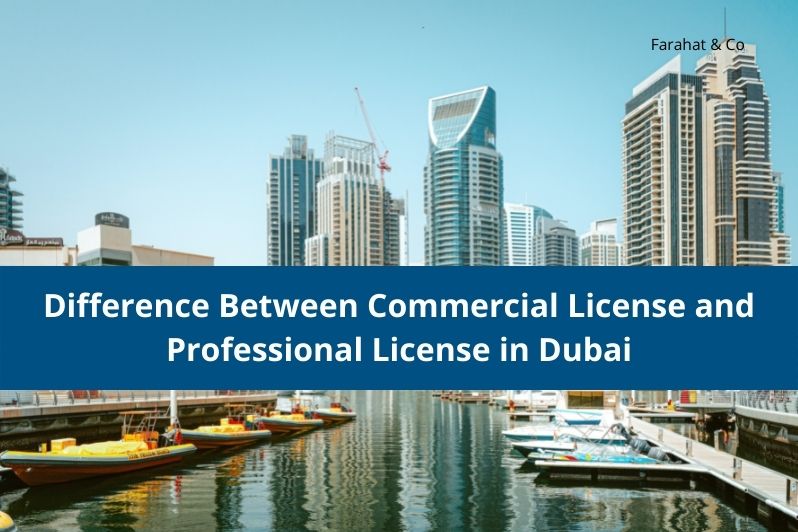 | | | |
| --- | --- | --- |
| Points | Commercial license  | Professional license |
| Type of Activity | If the business activity involves selling tangible products, then the legal type of license will be commercial. Activities approved for the issuance of commercial licenses include general trading, electronic trading, software trading, etc. | If you want to utilize some special skill set or knowledge and want to provide service in exchange for a fee, then a professional license is required. |
| Ownership of establishment | In a commercial license, an expat or foreign investor can legally own 49% of the total shares and the rest or 51% will be owned by a UAE national or local service agent. | In a professional license, an expat will have 100% ownership and can become the sole owner. |
| Share capital | The minimum share capital amount required is Dhs 300,000. | The minimum share capital is Dhs 150,000 to open a company with a professional license. |
| Government license fees | A commercial license will cost approx. Dhs 17,000. | A professional license can be acquired for approx. Dhs 11,000. |
| Liability | A commercial license is issued for a limited liability company, which offers shareholders limited debts and liabilities. | The professional license provides the license holder the ability to establish a business and sole responsibility for all debts and liabilities (unlimited). |
Advantages of Acquiring a Commercial License
A commercial license is issued to a company involved in any sort of commercial trade activity. General traders as well as specialized traders alike can avail of commercial licenses and operate in the region.
A commercial trade license serves as both the regulation and protection for trading companies. Businesses that belong to retail, construction, and real estate industries also need to apply for commercial trade licenses.
The benefits provided by a commercial license are as follows:
To perform a maximum of ten activities in one commercial trade license;
Several options for the type of company to register;
Several similar business activities can be undertaken under one license;
Secure business engagement with DED and Registrar of Companies;
Residence visas for employees and company management
Assistance with opening of corporate bank accounts
Cost-effective ways for the renewal of a commercial trade license in the UAE
Advantages of Acquiring a Professional License
A service-oriented company relies on professional skills. This is why specialists and professionals each need to acquire a UAE professional trade license in order to set up a business in the country.
The benefits of having a professional license in UAE are as follows:
The fixed annual fee for professional license holders;
Suitable for skilled professionals;
Transparency in dealing with clients;
Business is allowed to apply for visas for employees
Professional and commercial licenses are both high-in-demand types of trade licenses in UAE. All businesses related to consultancy are required to get a professional license in Dubai, and all kinds of goods trading would need a commercial license to commence. Take special note of this, as it is very important to understand which trade license is required to form a new company.
Business setup consultants in Dubai
A trade license is a requirement if you want to start a business in Dubai and the rest of the UAE. The local government has always been supportive and is focusing on trying to develop the region as a business destination. The process of acquiring a trade license in Dubai is quick and straightforward. If you are on the lookout for a business setup consultant to help you register your company, process your trade license application, and start a business in the emirate, contact our team of experts. FAR Consultancy Middle East is here to help you through the process – ultimately ensuring that you are only required a little more than a few hours of your time. Contact us TODAY for more information on trade licenses for businesses in Dubai
Also Read: Trademark Registration Application and Cost
Which governmental department is responsible to issue a trade license?
The Department of Economic Development is responsible for issuing commercial and professional licenses for business entities in Dubai. In case you would like to establish your business presence and acquire a trade license, the approval of the regulatory body is required.
What are the types of licenses issued in the UAE?
There are three main types of licenses issued in the UAE, and they are as follows:
Commercial License – issued to a company engaged in any kind of trading activity
Industrial License – issued to a company engaged in any kind of manufacturing license or industrial activity
Professional License – issued to service providers, artisans, professional and craftsmen
Does a commercial trade license require a partnership?
A commercial trade license does require a partnership with a UAE national if the business will be operating in mainland Dubai. It is essential that the business partner is a UAE national and holds 51% of the shares of a company.