What is DAFZA?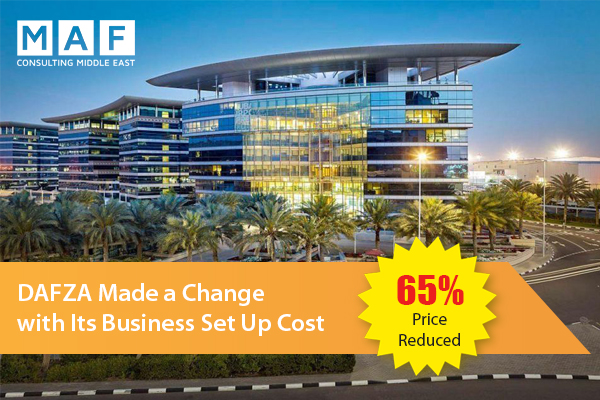 The Dubai Airport Free Zone (DAFZA) is one of the fast-growing free zones in the United Arab Emirates (UAE). It was established in 1996 for a more driven economy in the country.
Investors have DAFZA in their list whenever they pick a location for their startup or branch. For this reason, DAFZA contributes about 4.7% to the gross domestic product (GDP) of Dubai.
There are 696,000 square meters in DAFZA, where 1,600 organizations are situated in there. These companies come from different parts of the world with various business activities as well.
What Benefits Do You Get in DAFZA?
Just like any other free zones in the UAE, there are advantages that investors gain in choosing to conduct a business setup in DAFZA.
100% foreign ownership
Although it has been recently laid down by the government that they are going to give 100% ownership to companies that belong to certain industries, DAFZA gives full 100% foreign ownership regardless of the industry.
Location
It has a strategic location because it is right next to the Dubai International Airport and right off at the highway for easy access through air and land. A lot of businessmen find this as advantageous because moving products is done easily.
No restriction on foreign talent or employees
DAFZA allows businessmen to employ anyone from anywhere. Investors can hire the talents that they need for their company. This helps in diversity in a company, and might even improve brainstorming for new business ideas.
There are a lot more that DAFZA can offer to businessmen who are looking to conduct a company formation in DAFZA, and some of them are listed below:
No restriction on capital repatriation
0% import or re-export duties
No currency restrictions
Onsite customs
DAZA's Reduction of Business Setup Costs
DAFZA has decided to reduce their business set up costs. It will come into effect by the end of this year. The 65%, 33%, 20%, and 17% reduction in registration, license procurement, visa fees, and establishment card fees, respectively, is good news to investors who are looking for a competitive price in the business set up in Dubai.
The reason for this is for drawing in and the stability of foreign direct investment (FDI) and participate in increasing their competitiveness in the region for a rise in Dubai's GDP.
It is expected that the business setup in DAFZA will rise as soon as it is introduced and implemented in the said zone.
DAFZA's Restructuring for Investors' Benefit
DAFZA aims for its clients to experience flexibility in setting up their business. They are now allowing Limited Liability Free Zone Company (FZ-LLC) structuring of companies.
Fines for late renewal of licenses is waived along with the fees for Board Resolution and memorandum of association issuance. by the authority of DAFZA. This will help the businessmen to not be too pressured in renewing their licenses, promoting relaxed terms.
The restructuring that DAFZA has chosen to do gives investors the chance to have their company to operate with their chosen business activity that rightly corresponds with the nature of their business.
Even if these are the only changes that have been announced by now, there are still more advantages that might come through for the further advancement of the aforementioned zone.
The continuous support of DAFZA to their clients is shown through this newly released news for the flexibility and advantage of the companies. They are indeed committed to ensuring the development of, not just their own location, but of every organization situated in the free zone as well. Because of this, they also help in the growth of the economy, aiding in driving more FDI into the country for it to continue its competitiveness in the business scene in the world.
Top Business Setup Consultants in UAE
FAR Consultants has always been helping businessmen in dealing with their dilemma in the business setup in Dubai and in the rest of the country. Company formation in DAFZA is being in demand as it is one of the fastest-growing free zones in the country, and we are willing to lend our hand in leading you to the right procedures to conduct your business setup in DAFZA.
Our experience of 35 years gives us an edge in helping you face any problems. We can provide you with the solutions that you need as well without compromising quality. We can also give you the information that you may need before diving into a venture like the business setup in DAFZA and other things that you have in mind.
You can call us and book a free consultation today. We will ensure that you will be surrounded by a team of business setup consultants in DAFZA who can give you the right data for any queries that you have.