When Did AFZA Start?
Ajman Free Zone Authority (AFZA) is one of the recognized locations in the UAE wherein businessmen can conduct industrial activities. This was founded in the year 1988.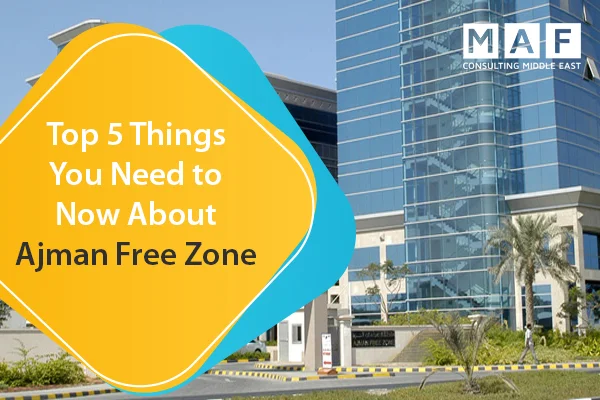 Because of its rising prominence in the country, there are a number of investors who choose to have a business set up in Ajman Free Zone. This greatly helps the economy of Ajman, and in turn, the UAE's economy as well.
Where is AFZA Located?
AFZA is strategically located as it can be accessed through land, air, and sea. It is only 25 minutes from international airports in the country. There is also an available communication with world air transportation networks available. AFZA is also near the Ajman Sea Port, making it easier to import and export through the sea. And lastly, AFZA makes it easy for businessmen to conduct transaction and trade through the land as it is in close proximity to other neighbouring countries in the Middle East.
What Types of Business Setups are Allowed in AFZA?
There are four types of ownership that an investor who plans to have a business set up in AFZA can choose:
Ajman Free Zone Entity
Ajman Free Zone Company
Branch of a Local Company
Branch of a Foreign Company
What Benefits Will You Obtain When in AFZA?
Aside from its location, there are other things that AFZA offers to businessmen who are looking to conduct a business setup in AFZA.
AFZ has been a good help to the UAE economy with its rising number of businesses in its stead. The listed benefits below present what businessmen are going to experience as they reside in AFZ:
100% foreign ownership
100% repatriation of capital and profits
The bank account in the UAE
100% legal exemption from all imports and export duties
Low energy costs
Exemption from financial reports submission and audit
No corporate tax
No personal income taxes
Low labour costs
Security service for 24 hours
What Kinds of Licenses are Being Offered in AFZA?
There are also licenses that AFZA offered in the location in which a company can operate legally. These types of licenses are listed below:
Industrial license—this is for companies that operate manufacturing activities.
Professional Services license—This license is for companies whose nature of business falls under marketing, IT, or management consultancy, among many others.
Trading Licenses—this is for companies that have trading activities.
E-commerce license—this is for companies that are associated with an online business.
They also offer a National Industrial License for companies in Ajman that wish to operate inside the free zone but meet certain criteria.
An Offshore license is also offered to businessmen who are looking to establish a company that has no physical presence in the UAE.
What Facilities Can You Take Advantage of in AFZA?
AFZA has some of those infrastructures and facilities that are made to meet the requirements of companies whose nature of the business is allowed in their location. With this, they can focus on what they need and meet it excellently.
The following facilities are simply some of the examples of what AFZA can offer to investors who are looking to have a Dubai Freezone company setup.
Executive Offices—AFZA offers these to businessmen, with five employment visas that come along with it. Operations can easily be started with executive offices as it is complete with other facilities, security, and even parking.
Smart offices—Startups and entrepreneurs will find these offices to be fitting for them. With it comes two employment visas as well as costs that can be maintained in its low state.
Warehouses—These are offered to businesses in AFZA to ensure that storage of goods or other kinds of the product can be achieved by businessmen properly. These warehouses are designed to meet the requirements of each company.
Top Business Setup Consultants in UAE
An Ajman free zone company formation can be made easy and possible with the help of consultants who will not just advise you but help you through the step-by-step procedure of setting up a business in that location.
FAR Consultants has been in the industry for 35 years. We have set up thousands of businesses in the UAE. We believe that we can lend help to you in this time of your need. We can provide you with the information and data that you need in order to decide properly.
We will ensure to surround you with a team of people who will help you with your business plan and achieve your goals in accordance with the foundation of your cheapest company formation in UAE.
For a free consultation, you can call us today and book a meeting with one of our business setup consultants  They will explain all about AFZA and answer any questions that you may have.