The United Arab Emirates is known to be the home for a number of business hubs all thanks to local and foreign investors alike. It's become a popular destination for free zone business setup as it offers 100% ownership, full repatriation of income, and many other benefits to multinational companies that want to register and operate overseas.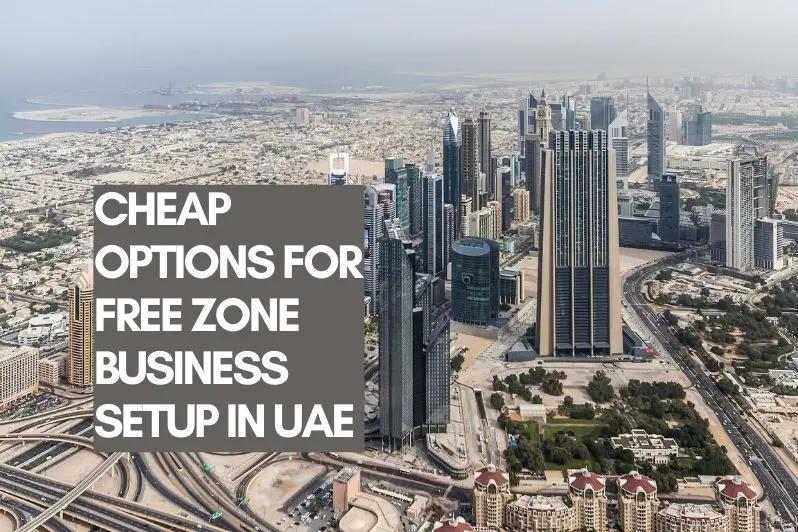 Many budding entrepreneurs and investors want to dip their toes in running a business in UAE, and they are more interested in finding the affordable options for UAE free zone business setup. If you are one of them, then you are in the right place as we've listed the most cost-effective free zones for the registration of a business! Check them out below. 
Also Read: Advantages of business setup in Ajman Free Zone (AFZ)
Sharjah Media City
Sharjah Media City has the primary goal of being a world-class for the entertainment and media industry. This free zone fosters an exceptional and highly connected environment, ensuring the growth and success for the businesses that are within its jurisdiction. 
With a quick and simple process for business setup and affordable operating costs, it's truly one of the free zones that are best to be considered if you're still starting out within the media industry. Business licenses that are available include a service license, trading license, and professional license.
Ajman Media City FZ 
Ajman Media City FZ is one of the free zones that are relatively newly established; however, it is fast-growing. Located in Ajman, it's been formed in order to create a professional and harmonious environment for individuals and businesses alike. 
If the business setup in Ajman Media City FZ is performed with the help of experts, the costs can remain low and will prove to be the cheapest option for new business owners. 
Benefits to establishing within Ajman Media City FZ include cheap licensing, free impartial consultation, 100% business ownership even for a foreign investor, and no requirement of physical office space. The free zone also offers social media influencer licenses apart from the usual which include professional and trade licenses. 
Khalifa Industrial Zone Abu Dhabi 
KIZAD is making a name across the globe as it is one of the few free zones that offer a broad range of solutions that are required by businesses. The free zone also offers different types of facilities that are suitable for different kinds of business strategies. As for the mode of transportation, you will find that the free zone is easily accessible as it has road, air, and sea access. 
The free zone essentially offers all solutions different kinds of businesses need. It's suitable for a number of business activities, large or small-scale. 
The unique advantage that KIZAD provides apart from accessibility is its size which is massive. It's also offering dedicated investor support, competitive operating costs, a tax-free environment, and so much more. However, we can't stress enough the fact that it has a strategic location with access to not only regional markets but international as well. 
All these contribute to making the free zone among the leading hubs for diverse sectors such as trading, logistics, and manufacturing. Take note: its air freight capacity is in the millions! 
RAK Economic Zone 
RAK Economic Zone is in the middle of the entire emirate of Ras Al Khaimah. Being in the center of the emirate, it's a powerhouse for businesses and the industrial hub offers unique benefits. This includes customizable solutions for non-free zones and free zone businesses. Starting from startups and freelancers to small- and medium-sized benefits and industrialists, the multinational community of the free zone is flourishing. It is the home to over fifty different business industries, which is why it is also providing cheaper business setup and operating costs. 
The authorities of the free zone place their partners in the heart of all that they do. This is evident when you experience the top-notch customer support that is paired with modern facilities, first-class business solutions, and cost-effective business setup packages. In order to help you reach your full potential, the free zone authority has anticipated everything that a business requires not only to establish but also to thrive while under its jurisdiction. Blessed with a unique location, the free zone authority connects investors to markets that are continuously growing not only in the Middle East, but Central Asia, North Africa, and Europe as well. 
Also Read: How to Close a Business in UAE
Int'l Free Zone Authority 
Int'l Free Zone Authority is a free zone that's based in Fujairah. It offers quick business setup in one of the UAE's leading business hubs. Offering a customized approach with regards to company formation in Fujairah, the free zone is one of the best options when looking for a cheap place for setting up shop. 
Benefits for Int'l Free Zone Authority business setup include full profit repatriation, fast incorporation, and business owners aren't required in being physically present during the incorporation process. 
If you have questions regarding business setup in UAE free zones, call the experts of FAR Consulting Middle East.